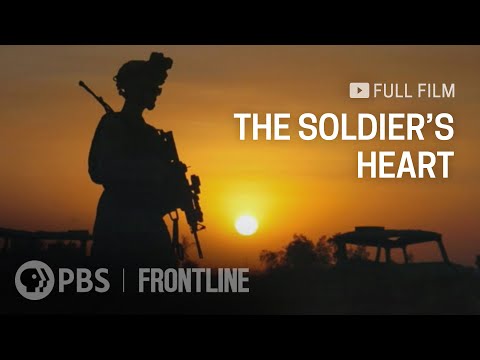 FRONTLINE tells the stories of soldiers who have come home haunted by their experiences during the Iraq War and asks whether the government is doing enough to help. (Aired 2005)
This journalism is made possible by viewers like you. Support your local PBS station here: http://www.pbs.org/donate​.
The military teaches soldiers how to fight, how to kill, how to survive. But who teaches them how to live with themselves? In the 2005 documentary, "The Soldier's Heart," FRONTLINE examines the underreported story of the Iraq war: the psychological cost for those who fought it. For those who survived the fighting, the battle is not over. For some, the return home can be as painful as war itself.
Love FRONTLINE? Find us on the PBS Video App where there are more than 300 FRONTLINE documentaries available for you to watch any time: https://to.pbs.org/FLVideoApp​
#Documentary​ #TheSoldiersHeart
Subscribe on YouTube: http://bit.ly/1BycsJW​
Instagram: https://www.instagram.com/frontlinepbs​
Twitter: https://twitter.com/frontlinepbs​
Facebook: https://www.facebook.com/frontline
Major funding for FRONTLINE is provided by the Ford Foundation. Additional funding is provided by the Abrams Foundation; the John D. and Catherine T. MacArthur Foundation; Park Foundation; and the FRONTLINE Journalism Fund with major support from Jon and Jo Ann Hagler on behalf of the Jon L. Hagler Foundation, and additional support from Koo and Patricia Yuen.
The post The Soldier's Heart (full documentary) | FRONTLINE appeared first on DocuHub.