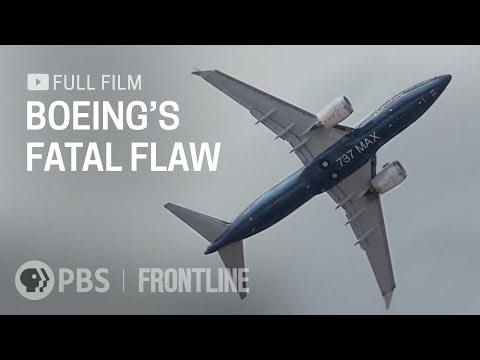 What did Boeing know about the potential for disaster with its 737 Max airplane — and when did the company know it? FRONTLINE and The New York Times investigate the crashes that killed 346 people.
This journalism is made possible by viewers like you. Support your local PBS station here: http://www.pbs.org/donate.
In October 2018, a Boeing 737 Max passenger jet crashed shortly after takeoff off the coast of Indonesia. Five months later, following an eerily similar flight pattern, another 737 Max 8 went down in Ethiopia. Everyone on board the flights died.
"Boeing's Fatal Flaw," a FRONTLINE documentary in collaboration with The New York Times, tells the inside story of what led up to the crashes — revealing how intense market pressure and failed oversight contributed to tragic deaths and a catastrophic crisis for one of the world's most iconic industrial names.
"Boeing's Fatal Flaw" premieres Sept. 14, 2021 on FRONTLINE: https://to.pbs.org/3z53A0h
#Documentary #BoeingsFatalFlaw #737Max
For more reporting in connection with this investigation, visit FRONTLINE's website: https://to.pbs.org/37n45Hx
And read The New York Times' coverage: https://nyti.ms/3AmUzkV
"Boeing's Fatal Flaw" is a FRONTLINE production with The New York Times and Left/Right Docs. The writer and director is Tom Jennings. The producers are Vanessa Fica and Kate McCormick. The reporters are David Gelles, James Glanz, Natalie Kitroeff and Jack Nicas. The senior producer is Frank Koughan. The executive producers for Left/Right Docs are Ken Druckerman and Banks Tarver. The executive producer of FRONTLINE is Raney Aronson-Rath.
Find FRONTLINE on the PBS Video App, where there are more than 300 FRONTLINE documentaries available for you to watch any time: https://to.pbs.org/FLVideoApp
Subscribe on YouTube: http://bit.ly/1BycsJW
Instagram: https://www.instagram.com/frontlinepbs
Twitter: https://twitter.com/frontlinepbs
Facebook: https://www.facebook.com/frontline
FRONTLINE is produced at GBH in Boston and is broadcast nationwide on PBS. Funding for FRONTLINE is provided through the support of PBS viewers and by the Corporation for Public Broadcasting. Major funding for FRONTLINE is provided by the Ford Foundation. Additional funding is provided by the Abrams Foundation; the John D. and Catherine T. MacArthur Foundation; Park Foundation; and the FRONTLINE Journalism Fund with major support from Jon and Jo Ann Hagler on behalf of the Jon L. Hagler Foundation and additional support from Koo and Patricia Yuen.
The post Boeing's Fatal Flaw (full documentary) | FRONTLINE appeared first on DocuHub.