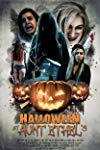 Genre: Comedy, Horror
Imdb Rating: 6.3/10
Rip Source: Bluray
Starring: Chris Cavalier, Melissa Daddio, Sean Michael Gloria, Jason Henne, Rhyssa-Kathryn Marie, Jovanni Mazzaferro, Lisa Mcconnell, Madeleine Murphy, Kierney Nelson, Stephanie Town, Gail Yost
Everyone in town knows the story of Old Aunt Ethel. Its said she makes Halloween candy and pumpkin pie out of the kids that trick-or-treat at her house. Is Aunt Ethel really a mental case with a taste for children? This Halloween, the neighborhood teens are going to find out the truth. They have something special planned for Aunt Ethel. This might just be someones last Halloween.
Source: WatchSoMuch New Movies